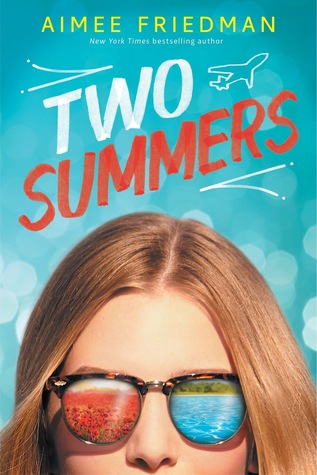 BLURB
ONE SUMMER in the French countryside, among sun-kissed fields of lavender . . .
ANOTHER SUMMER in upstate New York, along familiar roads that lead to surprises . . .
When Summer Everett makes a split-second decision, her summer divides into two parallel worlds. In one, she travels to France, where she's dreamed of going: a land of chocolate croissants, handsome boys, and art museums. In the other, she remains home, in her ordinary suburb, where she expects her ordinary life to continue — but nothing is as it seems.
In both summers, she will fall in love and discover new sides of herself. What may break her, though, is a terrible family secret, one she can't hide from anywhere. In the end, it may just be the truth she needs the most.
From
New York Times
bestselling author Aimee Friedman comes an irresistible, inventive novel that takes readers around the world and back again, and asks us what matters more: the journey or the destination.
REVIEW
THREE AND A HALF OUT OF FIVE STARS
*A special thanks to the publisher for this review copy.*
Two Summers, not the sweet, contemporary I thought it would be--but nonetheless charming and entertaining.
Summer has two possibilities for summer: Fly off to Paris to be with her artist father, or stay home with her outspoken, "Here's to the summer of love," bestie Ruby. Two possibilities, similar endings.
What I liked: The two alternate realities--the one where she goes to Paris, and the one where she stays home. I really liked the idea of being able to see both sides of the coin. Especially in a scenario like this one, where we would wonder what would happen if she decided to stay, or go, and were only left with one side of the story.
Paris: I don't know what it is because I don't have an explanation but a few years back I became obsessed with all things Paris. My entire bedroom because a shrine of sorts to Paris (and London, which I also fell in love with at the same time.) It's just something about the idea of the place that sets my heart a flutter, so having that as the story's backdrop--was a dream come true of sorts.
Hugh: I love the shy, blushing guy, in YA. I think it's adorable and pleasantly different--when the guy is the one that's unsure of himself in love. It's adorable to me. I would have liked to have gotten to know Hugh more, but just knowing the direction his character is going in will have to be satisfactory enough. I have high hopes for him.
The realistic family dynamic: Summer's parents are divorced. The Mom is in NY and the dad is pretty much all over the world, but mostly in Paris, France. I liked that they didn't make them hate each other but there was a realistic resistance coming from Mama bear. That made the story that much more real for me.
What I Didn't Like: I just didn't feel invested in the characters, sure I felt for them, and was pleased by the story--but I wasn't connected. It's funny how that usually doesn't work for me, but here it kind of didn't matter.
All in all it was an interesting, and entertaining story--one great for summer reading. I won't be standing on the tops of any mountains shouting about it but I do recommend it. It's a nice albeit not as light as I imagined, YA contemporary.