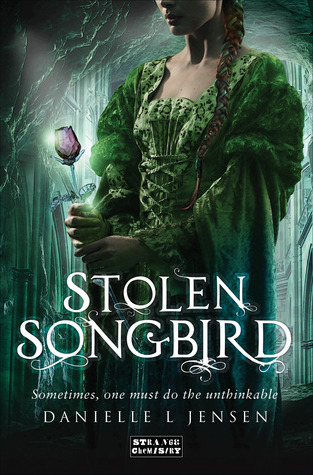 BLURB
For five centuries, a witch's curse has bound the trolls to their city beneath the mountain. When Cécile de Troyes is kidnapped and taken beneath the mountain, she realises that the trolls are relying on her to break the curse.
Cécile has only one thing on her mind: escape. But the trolls are clever, fast, and inhumanly strong. She will have to bide her time…
But the more time she spends with the trolls, the more she understands their plight. There is a rebellion brewing. And she just might be the one the trolls were looking for...

REVIEW
FOUR OUT OF FIVE STARS
Okay, Melissa, okay. I've read the book, and now here it goes. :P
While I didn't find the concept of Stolen Songbird unique, the characters, and the clever way with which they spoke--the tantalizing magical world of Trollus--and book boyfriend worthy, Tristan made this story a real win.
Let me just elaborate on what I considered a lack of uniqueness. The girl saves the proverbial day idea is not new. Neither is the forbidden romance--but what I found to be less than unique was one of the many things I liked about this novel.
With magic, kidnapping and romance as a backdrop it wasn't hard for me to get pulled into Stolen Songbird.
Cecile is a songstress with a voice of wonder. With plans to leave her hometown to live with her Mother and travel the world, singing and becoming an instant sensation--things quickly go awry.
She's kidnapped by a family friend and sold to trolls in this intriguing world called Trollus. Cecile is determined to escape. But things are never, ever that easy.
What really pulled me in like the girl I am was Tristan. As soon as he started talking I'm like, yup that's my kind of guy. He's abrasive, and obnoxious. He spoke in circles around Cecile but he's satisfyingly clever. I like a guy with a smart mouth, so sue me.

Secondary characters are also a plenty and the whole lot of them are pretty likeable. There's a pretty powerless Queen and an evil father.
The father, of course, uses his power for bad. Naughty, naughty, man.
The story as a whole moves slowly but progresses greatly in the second half--which is to be expected for fantasy. World-building, and info serving are imperative starts.
Aside from that, once the action starts--it's heart stopping. The author does a good job of keeping the reader guessing as to what will happen next--not only with the story but most importantly the characters.
The romance is slow burn, the magic is plentiful--and the story is good. Readers will be taken on a fun journey with otherworldly characters, and odd happenings--Fantasy fans will enjoy this romance based YA.

Book two is definitely on my radar.