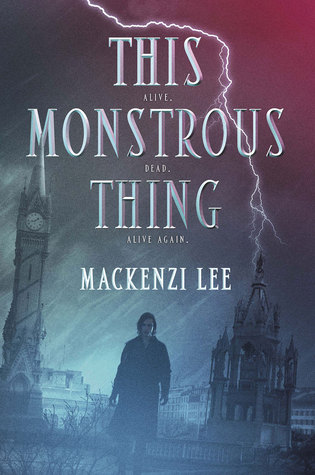 BLURB
In 1818 Geneva, men built with clockwork parts live hidden away from society, cared for only by illegal mechanics called Shadow Boys. Two years ago, Shadow Boy Alasdair Finch's life shattered to bits.

His brother, Oliver—dead.

His sweetheart, Mary—gone.

His chance to break free of Geneva—lost.

Heart-broken and desperate, Alasdair does the unthinkable: He brings Oliver back from the dead.

But putting back together a broken life is more difficult than mending bones and adding clockwork pieces. Oliver returns more monster than man, and Alasdair's horror further damages the already troubled relationship.

Then comes the publication of Frankenstein and the city intensifies its search for Shadow Boys, aiming to discover the real life doctor and his monster. Alasdair finds refuge with his idol, the brilliant Dr. Geisler, who may offer him a way to escape the dangerous present and his guilt-ridden past, but at a horrible price only Oliver can pay…
REVIEW
*THREE AND A HALF STARS*
*A special thanks to the publisher for this review copy*
I do not like historical fiction. Okay, I don't hate it but I tend to avoid them. I'm just not a fan of history--as crazy as that may sound. It tends to bore me, this probably explains why I can't get into most classics. But, I'm trying. Anyway, I'm saying that to say despite my usual dislike for historical fiction I quite liked This Monstrous Thing. I haven't read the original Frankenstein so I have nothing to compare it to. But, from what little knowledge I have of the story I liked the
steam-punk
version.
It was quirky and worked for the story. The characters were interesting--I was more fond of the female Character Clemence in this one. I tend to stray towards the male characters but I liked her. She was crass, and took no mess and it didn't seem like she was trying to hard. I liked that. The main characters, Oliver and Alasdair (I love that name, btw) they were cool. I don't have any particular feelings for them but I liked them. I liked their brotherhood, and I liked the fact that despite all that happened--their brotherhood remained intact.
For the most part I liked the story. I don't have much to say about it besides that, which is not too helpful but it's all I have really. This is a great read for historical fiction and steam-punk fans. I know the blurb mentions a sweetheart but don't go looking for any romance here because you won't get it.
You'll get lots of scientific-y, bro-mance, steam-punk-y feels.