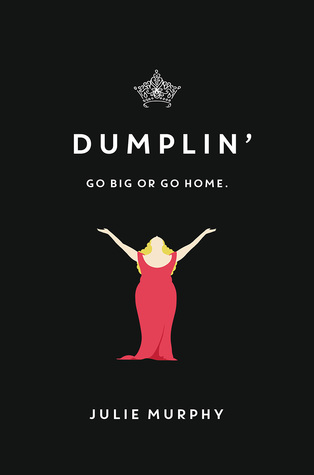 BLURB
Self-proclaimed fat girl Willowdean Dickson (dubbed "Dumplin'" by her former beauty queen mom) has always been at home in her own skin. Her thoughts on having the ultimate bikini body? Put a bikini on your body. With her all-American beauty best friend, Ellen, by her side, things have always worked…until Will takes a job at Harpy's, the local fast-food joint. There she meets Private School Bo, a hot former jock. Will isn't surprised to find herself attracted to Bo. But she is surprised when he seems to like her back.
Instead of finding new heights of self-assurance in her relationship with Bo, Will starts to doubt herself. So she sets out to take back her confidence by doing the most horrifying thing she can imagine: entering the Miss Clover City beauty pageant—along with several other unlikely candidates—to show the world that she deserves to be up there as much as any twiggy girl does. Along the way, she'll shock the hell out of Clover City—and maybe herself most of all.
With starry Texas nights, red candy suckers, Dolly Parton songs, and a wildly unforgettable heroine—
Dumplin'
is guaranteed to steal your heart.
REVIEW NOT REVIEW
THREE OUT OF FIVE STARS
*A special thanks to the publisher for this review copy*
I'm going to make this a simple pros and cons review.
PROS:
Dumplin aka Willowdean is a big girl. She's the kind of girl that a lot of us are, both secure and secretly insecure about all the things that don't work--like too big thighs and a "squishy stomach."
I really appreciated the fact that not only was Dumplin a larger girl it was made clear in the way she was described. Some authors toy with that line making the character larger but straying from describing them in a realistic way. Not neccessary.
Bo--I just imagine Bo as this handsome, laid-back unknowingly cutesy type. I liked how he wasn't too much but was never too little. I appreciated his fears, and later his strengths. He was an all around cool character.
Willow dean--She straddled the fence a lot. She was both body positive and body negative and that was tough to wrap my head around--because I wanted to support her but some of her comments turned me off a bit.
Cons:
The negative comments made by Willow. She was awfully negative about some of the other girls--especially for someone who was prone to ridicule herself. It just made no sense, and I didn't care for it. I didn't hold it against her too much, but I didn't care for it.
Man, this review, I should have written it sooner. I feel like I'm grasping for straws. This book wasn't nearly as good as I thought it was going to be and it's left me without much to say. I loved the whole Dolly Parton background, the country small town feel, but the negative body image was not cool.
I'm not sure I'd recommend this one but I wouldn't deter you either. If you like messy romance, and female MC's that are plus-sized, and pageants this book is for you.
That's all I have folks...