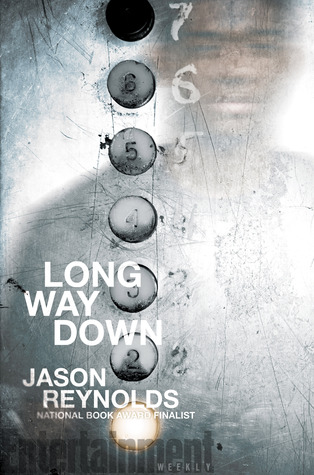 BLURB
A chopper. A gat.
A hammer
A tool
for RULE
Or, you can call it a gun. That's what fifteen-year-old Will has shoved in the back waistband of his jeans. See, his brother Shawn was just murdered. And Will knows the rules. No crying. No snitching. Revenge. That's where Will's now heading, with that gun shoved in the back waistband of his jeans, the gun that was his brother's gun. He gets on the elevator, seventh floor, stoked. He knows who he's after. Or does he? As the elevator stops on the sixth floor, on comes Buck. Buck, Will finds out, is who gave Shawn the gun before Will took the gun. Buck tells Will to check that the gun is even loaded. And that's when Will sees that one bullet is missing. And the only one who could have fired Shawn's gun was Shawn. Huh. Will didn't know that Shawn had ever actually USED his gun. Bigger huh. BUCK IS DEAD. But Buck's in the elevator? Just as Will's trying to think this through, the door to the next floor opens. A teenage girl gets on, waves away the smoke from Dead Buck's cigarette. Will doesn't know her, but she knew him. Knew. When they were eight. And stray bullets had cut through the playground, and Will had tried to cover her, but she was hit anyway, and so what she wants to know, on that fifth floor elevator stop, is, what if Will, Will with the gun shoved in the back waistband of his jeans, MISSES.
And so it goes, the whole long way down, as the elevator stops on each floor, and at each stop someone connected to his brother gets on to give Will a piece to a bigger story than the one he thinks he knows. A story that might never know an END…if WILL gets off that elevator.
REVIEW
FIVE OUT OF FIVE STARS
I feel like I've been asleep for the last 31 years and I just woke up. I am woke.
Long Way Down, is a knife that cut to the deepest, blackest part of me, and yelled at me to see it. Just see me, and I did.
Long Way Down, could've been fiction--it read so realistically. I was scrambling to get through the pages, fast enough to finish, yet slow enough to savor, and devour it.
Back Story: Our MC's brother was just killed. And he's set on living by the street code: Someone kills someone you love--you take revenge--and set it right.
That's where the story really takes off, on his long way down. He's in an elevator, a gun in his pants--and vengeance on his mind.
Told in verse (which is my favorite by the way), this story packs a powerful punch--clear, concise and sharply worded. I literally couldn't stop, stopping--after every single punch to the throat, which is what many of these pages were. Punches, wake up calls--look at me.
Punches of realism, heartbreak, reality, street code, blackness.
I am blown away.
I can't even tell you all how it all happens, because it would give the story away. I won't lie, I want to so badly, if not just to tell you the story--but also to help you understand it. I know, like I'm some expert on this work!
But, let me tell you, the world needs books like these. Books unafraid--unafraid to tell the raw, gritty truth--in all its fictional glory.
Don't sleep on this. Don't do that to yourself. You will not be disappointed.
]You'll want to take this journey, it'll be a fast one but it's a doozy--in the best way possible.
Powerful, poignant, purposeful prose, poetic.
One question, "You coming?"