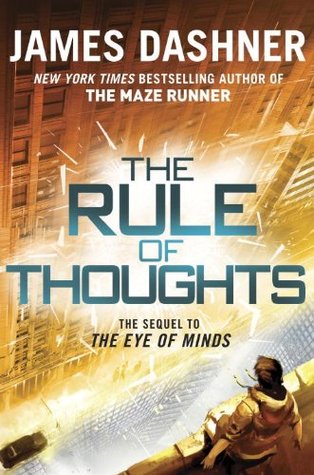 BLURB
From the New York Times bestselling author of the Maze Runner series comes The Rule of Thoughts, the exciting sequel to The Eye of Minds. Fans of the Divergent series by Veronica Roth and The Hunger Games will love the new Mortality Doctrine series.
Michael completed the Path. What he found at the end turned everything he'd ever known about his life—and the world—completely upside down.
He barely survived. But it was the only way VirtNet Security knew to find the cyber-terrorist Kaine—and to make the Sleep safe for gamers once again. And, the truth Michael discovered about Kaine is more complex than they anticipated, and more terrifying than even the worst of their fears.
Kaine is a tangent, a computer program that has become sentient. And Michael's completing the Path was the first stage in turning Kaine's master plan, the Mortality Doctrine, into a reality.
The Mortality Doctrine will populate Earth entirely with human bodies harboring tangent minds. Any gamer who sinks into the VirtNet risks coming out with a tangent intelligence in control of their body.
And the takeover has already begun.

REVIEW
THREE OUT OF FIVE STARS
In the likeness of The Maze Runner, The Mortality Doctrine Series, is just as exciting--and perfect for gamers and teens alike.
Each scene and chapter felt like a ride, and it was pretty thrilling to see how the characters would react and deal with all the crazy that was happening around them.
This book takes off like a rocket, right where the last one finished off. If you're new to this, I wouldn't start with this book because you will feel a little loss.
But for those of you that have read this, Michael is still coming to terms with his new reality and his newfound "fight" with Kaine, the ultimate tangent.
Michael, and his two best friends, Sarah and Bryson--are determined to stop Kaine, and his evil schemes.
What's really good about this book, is that it's pretty much non-stop action. There's never a dull moment. There's always something going on--so boredom won't be an issue.
There isn't much romance, so if like me you crave it, you won't be getting it here--but the good thing is you won't find yourself missing it.
I liked the twists and turns and found myself on the literal edge of my seat at times.
My only suggestion is that this book be shared with a younger audience. I find that from the ages of the characters, to the pacing--to the overall feel of the story, I think it would better appeal to teens under the age of 18. I believe there will be a better understanding, and quite frankly I think they'd enjoy it more.
However if you're a Dashner fan like myself, you won't be disappointed. There's a lot uncovered in this book, but there's still a lot more to go--without feeling like you're left on a cliffhanger--I know how much some of you hate that.
If you loved Maze Runner, you won't be disappointed, but strap in because it is a ride.