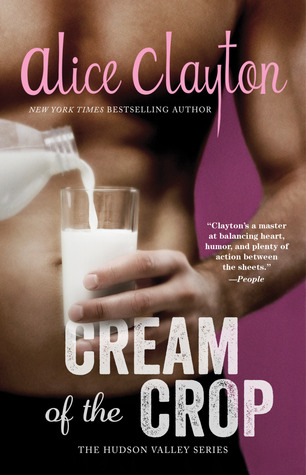 BLURB
New York Times and USA TODAY bestselling author Alice Clayton brings her trademark blend of funny and sexy to this second contemporary romance in the brand-new Hudson Valley series!

Manhattan's It Girl, Natalie Grayson, has it all: she's a hot exec at a leading advertising firm, known industry-wide for her challenging and edgy campaigns. She's got a large circle of friends, a family that loves her dearly, and her dance card is always full with handsome eligible bachelors. What else could a modern gal-about-town wish for? The answer, of course, is...cheese.

Natalie's favorite part of each week is spending Saturday morning at the Union Square Farmer's Market, where she indulges her love of all things triple cream. Her favorite booth also indulges her love of all things handsome. Oscar Mendoza, owner of the Bailey Falls Creamery and purveyor of the finest artisanal cheeses the Hudson Valley has to offer, is tall, dark, mysterious, and a bit oblivious. Or so she thinks. But that doesn't stop Natalie from fantasizing about the size of his, ahem, milk can.

Romance is churning, passion is burning, and something incredible is rising to the top. Could it be...love?
REVIEW
*A special thanks to the publisher for this review copy*
THREE OUT OF FIVE STARS
This is What It Is
I, for one love Alice. Nobody has been able to make romance this fun, in a long time. As far as this book goes, it will make you hot a hungry. Here's what it's about:
Natalie, is a city girl--a voluptuous city girl (YES, to the curves, she's a size 18 and killing it.), she's an ad exec at the top of her game. She spends her days, fashionably dressed, and doing the dang thing. But her love, her true love--is cheese, oh and maybe the guy that makes it. Oscar has the best cheese in town, well not technically in town because he lives upstate. But, he comes down every saturday to sell cheese in the city--and he renders Natalie speechless, every, single, time. He hands her the cheese, and takes her breath on the walk away.
Then she's offered the ad campaign of a lifetime, right in the same town as her bestie, and man crush. Then the fun ensues.
She's A Brick House
I am so team Natalie, it's not even funny. I appreciated Natalie's confidence and style. She dresses like her weight is not an issue, and it very well shouldn't be. Alice did a great job of proving to the world, that yes, plus-sized women can kill it too--and not feel weird about it. Her story is a real one, and it's to be appreciated.
Oscar The Grouch and The Romance
Natalie and Oscar together are like the beginnings of a forest fire--hot but not yet lethal. They had a sexual chemistry that was off the charts. I mean if we are to take Oscar at his outward appearance I can totally see why. He's Paul Bunyun big. he has great hair, a great face and a quiet but loud presence.

But, it's the quietness that got to me. You don't get to really know Oscar, sure he's a man of few words. But he was a man of too few words. Sure, you get a little bit of his back story but I feel like you never really got to know him. I felt like I just got the surface of who Oscar really was--and I wasn't too happy about it.

Due to the fact that I didn't get much out of Oscar, it made the romance part of this book feel underdeveloped. Which was disappointing to say the least.

THE HUMOR AND THE FRIENDSHIPS
These aspects of this novel was a strong as ever, not Wallbanger strong but good--the right amount. One of the more enjoyable parts of this book.

THE VERDICT
I had a good time with this one but I wasn't all that pleased. Because the chemistry at least for me was lacking. Sure, they had lots of sex--but where was the spark, the feelings, the emotions? It was definitely lacking in this area at least for me. It is typical Clayton goodness, but just a little less spark-y. I like my spark.

I would recommend this despite all of that because it's fun, it's has it's funny moments, the sexual chemistry is off the charts, and it's Alice Clayton,'nuff said.