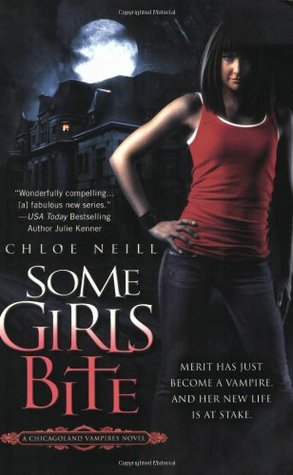 BLURB
They killed me. They healed me. They changed me.
Sure, the life of a graduate student wasn't exactly glamorous, but I was doing fine until Chicago's vampires announced their existence to the world. When a rogue vampire attacked me, I was lucky he only got a sip. Another bloodsucker scared him off and decided the best way to save my life was to make me the walking undead.
Now I've traded sweating over my thesis for learning to fit in at a Hyde Park mansion full of vamps loyal to Ethan "Lord o' the Manor" Sullivan. Of course, as a tall, green-eyed,
four-hundred-year-old vampire, he has centuries' worth of charm, but unfortunately he expects my gratitude—and servitude. Right…
But someone's out to get me. Is it the rogue vampire who bit me? A vamp from a rival House? An angry mob bearing torches?
My initiation into Chicago's nightlife may be the first skirmish in a war—and there will be blood.
REVIEW
FOUR OUT OF FIVE STARS
Urban Fantasy from what I gathered is fun. The books are not too serious, and they tend to be pretty funny.

Some girls bite was no exception. It was funny, it was fun, and I had a good time with it.
What Really Works
STRONG CHARACTERS:All of the characters have their own stories. They don't need anyone else to give them a story, because they're capable of standing up all on their own. Each character could have their own story, and wouldn't need the support of another. That's not always easy to do. Sometimes secondary characters would fade in the background if they weren't connected in some way to another character. So, I like that.
VAMPIRES:
I like Vampires. I don't know what it is. I just do. Their blood lust I could do without, but the supernatural strength, and weird sensuality. I can dig. I'm a weirdo, so sue me.
FRIENDSHIP: Merit, and Mallory's friendship is the bomb. They live together cordially. They make each other laugh, and they have the other's back no matter what. They were never catty, and the author didn't make Mallory--that stereotypical best friend, and that was a relief. None of the over the top girly pushiness, none of the I'm overly sexed and my bestie is not foolishness. Just two grown women, being best friends.
MERIT: Merit, is attacked and made into a vampire, a freaking vampire. And she didn't do much freaking out. Of course, she had to come to terms with it but she did so smoothly. I mean I don't know that I'd be so open but she was and I was like, okay. I like this girl. She's smart, she sassy and she's doing the thing as a vamp'.
ETHAN: Ethan is one big fat mystery to me. He's like an unripened onion. There's layers to him but you're not gonna get to them because he's not ripe. But I know some good is going to come out of his story. I just know it. And I am looking forward to it.
CATCHER: Catcher is a sarcastic little bastard--but he means well. I like that he pretty much comes onto the scene and dominates everything--including a certain someone. There's a story behind him and I'm eager to see what it is.
What Bothered Me:
It's a pretty slow moving story. It's probably because this was planned to be a series so there's the a lot that will be left for the rest of the books, but it's cool. I'll wait. Impatiently but I'll wait.

Evil little authors.
My own personal gripe is that I wanted a romance to spark between certain characters and that didn't happen. But I believe in lust and love, it's gonna happen. It will. I can feel it. *Insert evil laugh here* I shall have my romance.
Overall: I'm pretty pleased with this book. I've already started book two and I am well on my way to finishing it. I know I'll be seeing this series through. I just hope Mallory gets her own series, at some point--if she hasn't.
Recommended to Urban Fantasy beginners and lovers.