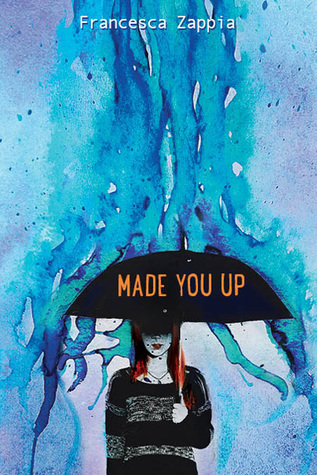 BLURB
Reality, it turns out, is often not what you perceive it to be—sometimes, there really is someone out to get you. Made You Up tells the story of Alex, a high school senior unable to tell the difference between real life and delusion. This is a compelling and provoking literary debut that will appeal to fans of Wes Anderson,
Silver Linings Playbook
, and
Liar
.
Alex fights a daily battle to figure out the difference between reality and delusion. Armed with a take-no-prisoners attitude, her camera, a Magic 8-Ball, and her only ally (her little sister), Alex wages a war against her schizophrenia, determined to stay sane long enough to get into college. She's pretty optimistic about her chances until classes begin, and she runs into Miles. Didn't she imagine him? Before she knows it, Alex is making friends, going to parties, falling in love, and experiencing all the usual rites of passage for teenagers. But Alex is used to being crazy. She's not prepared for normal.
F

unny, provoking, and ultimately moving, this debut novel featuring the quintessential unreliable narrator will have readers turning the pages and trying to figure out what is real and what is made up.
REVIEW
FOUR OUT OF FIVE STARS
Made You Up was mind screwy in the most ingenious way possible. I didn't quite know what to expect--but despite the fact that the MC was so unpredictable, it did nothing to deter from my enjoyment of the story. In fact, it enhanced it. I found myself wondering what was real and what wasn't, right along with our narrator. I definitely thought that aspect of it was well done. Nothing about it although unreliable seemed unrealistic. That was a hard thing to accomplish but the author did that, and then some.
I don't know what it was specifically that made this book so darn likable but I think it had a lot to do with the way the story was structured. The characters, the pacing--the everything. It was just a great book that read well. I still fdon't know what was real and what wasn't--and I still feel nothing but love and admiration for this story.
The characters were well fleshed out, the story and the pacing was well done. For a book about mental illness it was particularly easy to relate to. I think some of Alex's misconceptions about reality or not are some of the things everyday people feel concerned about--maybe just a little amped up.
I can say a million things you've already heard but I won't. Just read this one if you haven't. You won't be disappointed. It will keep you guessing, and you won't want to put it down.