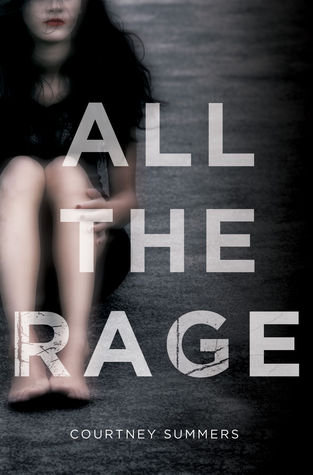 BLURB
The sheriff's son, Kellan Turner, is not the golden boy everyone thinks he is, and Romy Grey knows that for a fact. Because no one wants to believe a girl from the wrong side of town, the truth about him has cost her everything—friends, family, and her community. Branded a liar and bullied relentlessly by a group of kids she used to hang out with, Romy's only refuge is the diner where she works outside of town. No one knows her name or her past there; she can finally be anonymous. But when a girl with ties to both Romy and Kellan goes missing after a party, and news of him assaulting another girl in a town close by gets out, Romy must decide whether she wants to fight or carry the burden of knowing more girls could get hurt if she doesn't speak up. Nobody believed her the first time—and they certainly won't now — but the cost of her silence might be more than she can bear. 
With a shocking conclusion and writing that will absolutely knock you out,
All the Rage
examines the shame and silence inflicted upon young women after an act of sexual violence, forcing us to ask ourselves: In a culture that refuses to protect its young girls, how can they survive?

REVIEW
2 OUT OF 5 STARS
Oh how I pined over this book. I heard African American love interest and I near broke my neck to get to this book. Not to mention it's contemporary and deals with the heavy subject of rape. I am a fan of novels that deal with heavy topics--because I'm a fan of real life. And these things happen--unfortunately. It's not pretty, but it's real. And I thought that this novel would somehow paint me a picture of a contemporary story that would both break my heart and mend it. It did none of those things. I have to be honest this book bored me, frustrated me, and left me darn right unfulfilled. UNFULFILLED.
I kind of want a refund, because this is not one of those books I needed to spend money on, no disrespect to the author but I just could have done without this one. It wasn't a must read.
Lets talk about why: Romy. Romy is bullied--sort of. She's branded a liar--because she kind of does, lie--like a lot. I'm not entirely sure all of it's to blame on what's happened to her. I'm not sure if she's not just a jerk.She was brutal. She was hard to deal with, and I'm not quite sure I understood why. I mean if I had to go through what she did I can't say if it would change the dynamic of my personality--I don't know who I'd become. So, I keep that in mind. The bad part about it is she's not dealing with any of what she's going through--like at all. No talking, no counseling, nada. And, it wasn't good.
She was a shell of a person and no matter who tried to help, to love on her--she couldn't deal with it. She couldn't cope and it made for an ugly, unrelatable character and story.
To be frank the synopsis is misleading, the story pretty much centers on Romy, "the golden-boy" is not in the story. The love interest is pushed away so often he's not really in the story. And sadly she has no friends to speak of. It's really a downer--and not in a good way.
I just couldn't see where this story was going. I wasn't looking for a HEA because this is not that kind of story but it just felt like a never ending tale of sadness with zero resolutions of any sort. I don't know what to feel about this. I was just so disappointed. SO. DISAPPOINTED.
And shocking conclusion, where? Point me in the direction of what I missed. *sigh* I'm just gonna move along. I think I've said all I need to say...