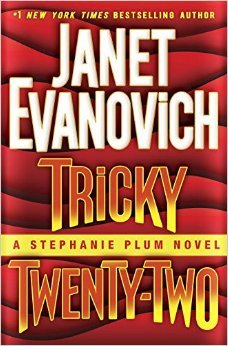 BLURB
Something big is brewing in Trenton, N.J., and it could blow at any minute.

Stephanie Plum might not be the world's greatest bounty hunter, but she knows when she's being played. Ken Globovic (aka Gobbles), hailed as the Supreme Exalted Zookeeper of the animal house known as Zeta fraternity, has been arrested for beating up the dean of students at Kiltman College. Gobbles has missed his court date and gone into hiding. People have seen him on campus, but no one will talk. Things just aren't adding up, and Stephanie can't shake the feeling that something funny is going on at the college - and it's not just Zeta fraternity pranks.

As much as people love Gobbles, they hate Doug Linken. When Linken is gunned down in his backyard it's good riddance, and the list of possible murder suspects is long. The only people who care about finding Linken's killer are Trenton cop Joe Morelli, who has been assigned the case, security expert Ranger, who was hired to protect Linken, and Stephanie, who has her eye on a cash prize and hopefully has some tricks up her sleeve.
REVIEW
THREE OUT OF FIVE STARS *FOR THE ABILITY TO ENTERTAIN*
Honestly I didn't expect much from this book and it's a good thing I didn't--because this story went exactly as they always have. Humor, mayhem and a never-ending love triangle. I mean for the love of Pete if Stephanie cannot pull herself out of this circle--I'm going to do an eenie meenie miney mo and pick one for her. I have to be honest that while it's entertaining it is getting really tired. To be quite honest even though it gives me a nice reprieve this series needs to end something terrible.
There's nothing else to do here. Absolutely nothing aside from marrying this character off and letting her ride off into the sunset--because as much as I love Stephanie I'm about done. Nothing new has happened in what the last ten books. She needs to pull a Charlaine Harris write me a disappointing ending and set me free.
It's over Janet, it's over.
To those of you who haven't read this series--do not let me deter you, heck it got me still reading it at the 22nd book, and I will back track and read the ones I haven't. The characters are entertaining but they do not grow. There is pretty much no character growth. It's tiring.
I'm not going to say anything else. I have nothing else to give. I'm just gonna go. Tata for now. Oh and I recommend this for readers that like humorous and wacky reads--with characters that have a knack for getting themselves into crazy situations.