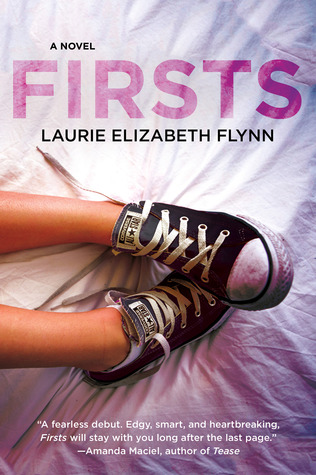 BLURB
Seventeen-year-old Mercedes Ayres has an open-door policy when it comes to her bedroom, but only if the guy fulfills a specific criteria: he has to be a virgin. Mercedes lets the boys get their awkward, fumbling first times over with, and all she asks in return is that they give their girlfriends the perfect first time- the kind Mercedes never had herself.
Keeping what goes on in her bedroom a secret has been easy- so far. Her absentee mother isn't home nearly enough to know about Mercedes' extracurricular activities, and her uber-religious best friend, Angela, won't even say the word "sex" until she gets married. But Mercedes doesn't bank on Angela's boyfriend finding out about her services and wanting a turn- or on Zach, who likes her for who she is instead of what she can do in bed.
When Mercedes' perfect system falls apart, she has to find a way to salvage her reputation and figure out where her heart really belongs in the process. Funny, smart, and true-to-life, FIRSTS is a one-of-a-kind young adult novel about growing up.
*A special thanks to the publisher for this review copy*
Unlike any YA I've ever read, Firsts is brutally honest and unflinchingly raw. Flynn wrote a no-holds barred contemporary painting sex and first-times in a whole new light.
The blurb for Firsts intrigued me. I'm thinking how is this going to pan out--how will I perceive such a seemingly racy story? But, let me tell you don't judge this book by it's cover--because it's so much more. Exactly what I hoped for and then some.
I won't say that this book will knock your socks off, but it will make you think and I think that's kind of the point. Romance is not pretty and sex is a tool in Firsts. This story is very Scarlet Letter meets Easy A. But it remains in the present with it's realistic portrayals of promiscuity and high school life.
Mercedes is saving relationships, one virgin at a time--or so she thinks. Her plan is to make the girls in her school's first time the best ever--by allowing herself to deflower the boy virgins that come to her for help. It started out small but escalated in something no one had time to prepare for. Her best friend's boyfriend finds out about her "services" and wants her help.
Things get pretty blurry at this point--lines get crossed and uncrossed, connections are made and broken--and meanwhile Mercedes is at the center of it all.
What I really liked about Mercedes as a character is that she was both brave and timid all at the same time--which is no easy feat. It's even harder to portray but Flynn manages to do so with amazing finesse. Her character is relatable even if you're nothing like her, or don't know anyone like her. She was raw and vulnerable and oddly sympathetic. She was a character I've never met before but appreciated.
I also liked her best friend Angela and the way her faith was portrayed. I can't tell you how many times I've seen Christians painted as bible-toting, scripture-wielding, Jesus Freaks. But Flynn did a great job of painting the picture of a Christian without the usual disdain. Not only that Angela wasn't judgmental and was extremely supportive in a way most people wouldn't know how to be.
And then there's Zach, swoon-worthy, honest Zach. He was the core of this story for me. He was the only guy doing everything right aside from all that was happening. I loved his character for his unrelenting determination, and his good heart.
And let me not forget, Faye. She was a force and I would be honored to have a friend like her.
All around Firsts was a stunning debut, one that will stick with me for a long time. It was heart-breaking and heart-mending all at the same time. A
must read for teens, both young and old.