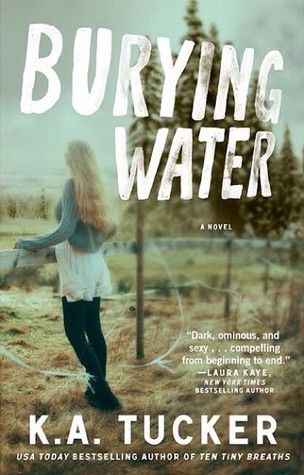 BLURB
Left for dead in the fields of rural Oregon, a young woman defies all odds and survives—but she awakens with no idea who she is, or what happened to her. Refusing to answer to "Jane Doe" for another day, the woman renames herself "Water" for the tiny, hidden marking on her body—the only clue to her past. Taken in by old Ginny Fitzgerald, a crotchety but kind lady living on a nearby horse farm, Water slowly begins building a new life. But as she attempts to piece together the fleeting slivers of her memory, more questions emerge: Who is the next-door neighbor, quietly toiling under the hood of his Barracuda? Why won't Ginny let him step foot on her property? And why does Water feel she recognizes him?
Twenty-four-year-old Jesse Welles doesn't know how long it will be before Water gets her memory back. For her sake, Jesse hopes the answer is never. He knows that she'll stay so much safer—and happier—that way. And that's why, as hard as it is, he needs to keep his distance. Because getting too close could flood her with realities better left buried.
The trouble is, water always seems to find its way to the surface.
REVIEW
THREE AND A HALF OUT OF FIVE STARS
Heavy laden with emotion, Burying Water is a gripping, emotionally charged tale. These characters weren't made to make you happy. To keep it brief, two people fall in love at the most inopportune time ever. They're love is forbidden and it can possibly mean death or life for one of them.
To be honest, as much as this book evoked, "feels" I didn't quite reach that feeling of love--and I wanted to love it. I really did. I just didn't feel strongly enough for the characters, even though their story is a heartbreaking one it just didn't quite do it.
I can't really say I was looking for something with this book but I wanted to connect with it more, and for whatever reason I didn't. But that's not to say that it wasn't well-written and enjoyable because it was. It was a love story heavily grounded in reality with the kind of emotional pull I look for in my contemporary romances. The characters were very three dimensional and I could truly grasp their feelings and emotions. Jesse was very closed off but brave and wise. Ginny was a sassy old-coot but I adored her. I am all for strong female characters both old and young.
Water is a force to be reckoned with in the most mellow way possible. She's strong but has natural human weaknesses but I liked how resilient she was. All in all the foundation of this novel was solid, the characters, the mystery and the romance all very solid, well done. I think it's just one of those cases where everyone loves it, and I'm the odd ball out. It happens. I wasn't disappointed by any means I just wasn't in the same boat as every one else.
Highly recommended for Amy Harmon, Katja Millay, and Colleen Hoover fans!