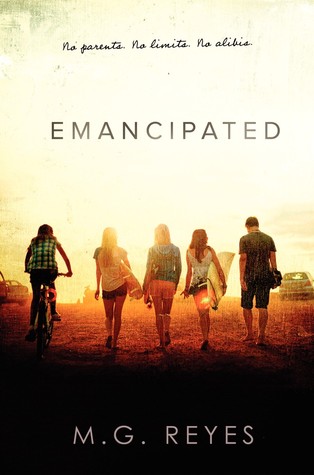 BLURB
The good girl, the bad boy, the diva, the hustler, the rock star, and the nerd. Six teens legally liberated from parental control for six different reasons, all with one thing in common: something to hide.
Now they're sharing a house in Venice Beach, acting like a family, and living their lies. No parents. No limits. No alibis. One witnessed a crime, another might be a murderer—and one's been spying on them all.
As they cling to a fantasy of freedom and slowly let down their guards, the past creeps up on them. And when one of them gets arrested, everyone's carefully constructed facade comes crumbling down.
In this steamy, drama-filled series, relationships are tested and secrets revealed as lies threaten to destroy their perfect setup.
REVIEW
THREE OUT OF FIVE STARS
* A special thanks to the publisher for this review copy*
How do I describe a book I didn't quite understand? I mean I understood it but I don't know. Okay, lets put it like this--a lot happened and a lot of nothing happened? That's totally clear right? RIGHT?!
No? Okay. This is one of those books where the author tries to make sure enough happens to keep the reader reading, but not enough for you to figure out exactly what's going on. You get a fair grip on the characters--but don't think for one second you know what's going on--because you don't. And you won't figure it out, not even by the end.
Yes ladies and gentleman--there is a cliffhanger of sorts at the end. There's this open ended ending--it didn't leave me panting for the next book--but I am quite intrigued.
I didn't develop any real strong feelings for any of the characters but they intrigued me for sure.
Lucy, the punk rock black girl, Paolo--the man whore, John Michael--the father killer?, Candace and Grace-the step sisters with closeted animosity, and Maya--the young Mexican girl with a ton of secrets.
I'm still trying to figure them all out, and it's odd to explain without giving anything away--so I won't. Let's just say they're all carrying a butt load of secrets--and I want to know what they are.
I wasn't blown away by the story as a whole, but because it left most of the mystery in tack--I'm up to reading book two, just to figure this whole thing out.
I need that aha moment, to feel complete. So if you like you mystery with little no action, and no resolution feel free to check this one out. It's interesting--it will pull you in.
*Oh, and don't go expecting much romance because honey there isn't any. There's hints of it but it's most certainly not a focus.*