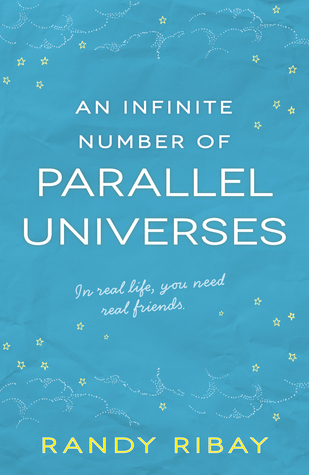 BLURB
As their senior year approaches, four diverse friends joined by their weekly Dungeons & Dragons game struggle to figure out real life. Archie's trying to cope with the lingering effects of his parents' divorce, Mari's considering an opportunity to contact her biological mother, Dante's working up the courage to come out to his friends, and Sam's clinging to a failing relationship. The four eventually embark on a cross-country road trip in an attempt to solve--or to avoid--their problems.

Told in the narrative style of Akira Kurosawa's RASHOMAN, AN INFINITE NUMBER OF PARALLEL UNIVERSES is at turns geeky, funny, and lyrical as it tells a story about that time in life when friends need each other to become more than just people that hang out.
REVIEW
*A special thanks to Merit Press for providing this review copy*
What this book has going for it:
Diversity: I want to break out into Michael Jackson's Black or White. This book is diversity. Gay, black, white, asian, whatever, it has it. I, of course being a woman of color, was all for the diversity. Cheers to Ribay, for making this book a melting pot of nerdy diverse goodness.
Friendship: I love how heavily this book focuses on the intricacies of friendship. It's so little about much else, but at the core of it, is friendships, the falls and the rises of it. It's a very interesting tale of friendship, one I struggled with and liked. (I'll get to that, in a bit.)
Nerdiness: If you've been to my blog, you know I cheer for the nerds, and this book has a cast of them. Dungeons and dragon playing, nerds. YES, and more yes.
Character growth: I was a little worried about this part of the book, but Ribay did pretty well with growing these characters, from page one until the end. You really get to watch as the characters reach their "aha moments." You really get to see them grow.
The things I didn't like:
Lack of connection: Because the characters started off as this group of disconnected friends--some of the connection was lost on me. I wasn't allowed to connect with their friendships until they became closer, towards them, endearing them to me--but that took a while.

Stereotypes: There were a few in here, but it wasn't too bothersome. I mean I didn't like it, but I was looking at it like, don't cross the line buddy, and he didn't. But I thought I'd briefly mention it.

Conclusion
I thought this book was pretty well done. The diversity aspect was a pleasure, but the story itself I wasn't too crazy about. It wasn't thrilling or moving, it was coming of age-y.

It's a nice story, with a quirky cast of characters, and because these characters are all on the verge of some new life, it gives the reader something to look forward to--watching them grow. I'd recommend it to contemporary lovers, and any one who loves diversity, and nerdy characters.